ESP8266 Time lapse WiFi Camera
When this started out I was actually going to make a motion triggered wireless camera. This quickly became a self challenge to see how long I would be able to run the camera on 3 AA rechargeable batteries taking pictures every 5 minutes.
Important Note!
This design operates at higher voltage than then the ESP8266 the rated for. Three fully charged Nickel Metal hydride AAA batteries typically produce at least 4volts.
BE AWARE THAT THERE IS RISK OF DAMAGE TO THE ESP MODULE.
!!DO NOT USE STANDARD ALKALINE BATTIRES!!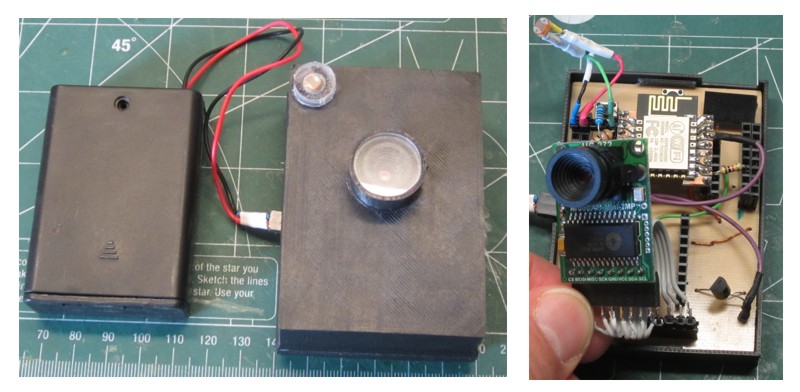 Primary Components
ESP8266-12E
BS170 Mosfet
CDS Cell
ESP8266-12E hookup
Standard ESP connections as well as GPIO16--1K--RST ( for Deep Sleep Control)
Light Sensor Vcc--1K--CDS-(A0)-1K--GND

ArduCAM_Mini Cam hookup

GPIO5 to Gate of BS170 mosfet
ArduCAM ground to Drain of mosfet, Source of mosfet to Ground

Due to power drop across the mosfet camera only operates when hooked up to batteries.

SDA=GPIO0 SDL=GPIO2
CS=GPIO4 MOSI=GPIO13 SCK=GPIO14 MOS0=GPIO12